JRR Advertising/Sponsorship
Jewish Rock Radio is a vibrant digital home of Jewish culture and engagement. As a high-caliber, 24-7, internet radio station available on computers and mobile phones, Jewish Rock Radio offers a scope and reach that is far greater than most print and website platforms available in the Jewish world. JRR presents a unique and broad-reaching platform for Jewish organizations, artists, and secular businesses to build message, brand and mission awareness and loyalty for a highly engaged Jewish audience.
For more information on Jewish Rock Radio Advertising/Sponsorship, please contact Steven Chaitman..
Your Goodwill
JRR advertising/sponsorship provides a wonderful opportunity for individuals and businesses to express support for JRR, a groundbreaking media channel inspiring and engaging thousands of young Jews.
JRR is a listener-supported, non-profit source of entertainment and education. Listeners view JRR advertisers/ sponsors as like-minded, credible, trustworthy, and committed to Jewish community, culture, and engagement.
JRR Everywhere
• www.jewishrockradio.com
• Free JRR iPhone and Android mobile apps
• iTunes Radio
• JRR on Facebook
• JRR on Twitter
• Sonos
• AppleTV
• JRR Embed Player widget hosted on websites around the country including Federation, synagogue, camp, and youth group websites.
On-Air Sponsor Spots
Give your brand a voice and volume with JRR On-Air Sponsor Spots. JRR can produce your audio spot with a professional voice-over talent reading your message over a bed of inspirational music.
Samples of Sponsor Spots:
JRR Android and iPhone Mobile Application Banners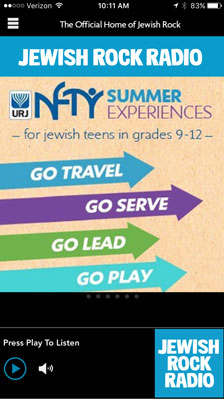 JRR Android and iPhoneMobile App Banners appear in the middle of the screen on the Jewish Rock Radio mobile app. JRR Mobile App Banners rotate consistently every 8-10 seconds and your logo will link to your website.
Here is an example of a JRR Mobile Application Banner in the middle of the application window:
Marquee Banners
Marquee Banners appear on the www.jewishrockradio.com homepage. Marquee Banners consistently rotate every 5-8 seconds. There are a limited number of Marquee Banner slots available for sponsorship.
Dimensions for Horizontal Banners must be 675 x 200 pixels.
Billboard Side Banners
Billboard Side Banners appear on the right hand side of web pages.
Dimensions for Billboard Side Banners must be 822 x 462 pixels.
JRR Embed Player
Bring some of the excitement JRR offers to your congregation, artist, Federation, or camp's website by installing the JRR Embed Player. The JRR Embed Player can make your website more dynamic and relevant, especially for younger website visitors, who can listen to cool Jewish music while they browse your site. This often results in visitors browsing longer!
When a visitor clicks on the JRR Embed Player, it will play cool Jewish music. All visitors remain on your site; visitors are never redirected to any other site. Many congregations already use the JRR Embed Player, as well as all URJ camp websites and dozens of Federations throughout the country.  Getting the JRR Embed Player widget on your site is quick and easy. Click here to get the JRR Embed Player for your site. All you have to do is enter your info and we automatically send you simple code to install the JRR Embed Player on your site.
These interactive banners come in industry-standard sizes of 728px by 90px, 300px by 250px and 240px by 170px.
JRR Live Events
Bring your brand on the road with JRR Live Events. Your branding will appear on posters, flyers, large vinyl banners, and big screen video displays for thousands in Jewish communities across the U.S.
Contact Us
To learn more about how a customized advertising/sponsorship program can help your organization reach the tens of thousands of loyal and highly engaged listeners of Jewish Rock Radio, please contact Steven Chaitman.