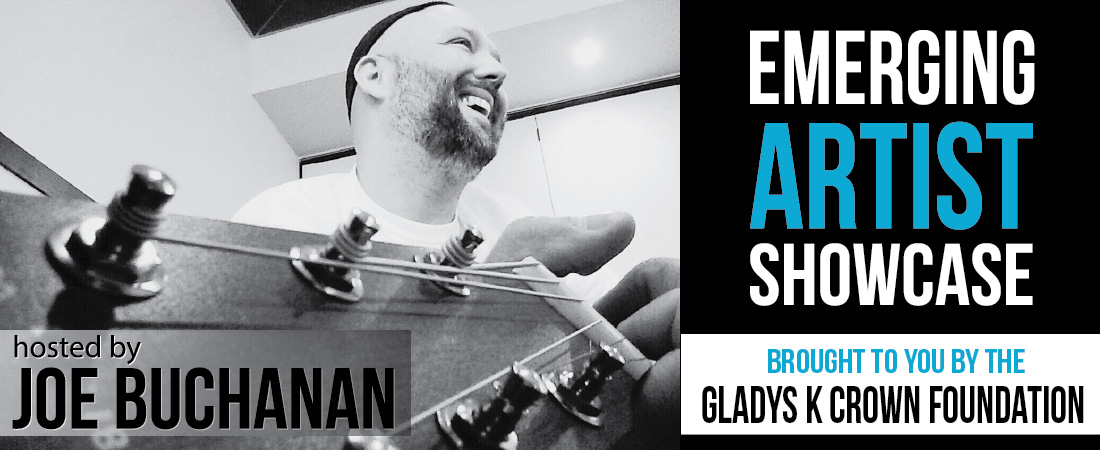 The Emerging Artist Showcase features new and exciting voices in Jewish rock, with host Joe Buchanan. This show is brought to you by the Gladys K Crown Foundation.
About the Host
Joe Buchanan is an Americana singer-songwriter from Houston, Texas. Upon converting to Judaism, he found his voice, values, and history in the Torah of the Jewish people. Buchanan has shared his music with Jewish communities across the US, and has taken the stage at notable Jewish events such as the Union for Reform Judaism (URJ) Biennial conference, Songleader Boot Camp, NewCAJE, and at the Atlanta Jewish Music Festival. His music combines the feel-good, toe-tapping elements of country, roots-rock, and folk genres of his Texas upbringing with his love of the complex melodic and harmonic character of Jewish scales and traditional tunes.
His debut album, Unbroken, was produced by Jewish Blues Pioneer, Saul Kaye, and recorded at the famous Fantasy Studios. The debut album features liturgical and original songs alike in both Hebrew and English, all driven by a roaring Hammond B3, lap steel guitar, and heartfelt vocals. Unbroken is about choosing to be Chosen, choosing this life, and choosing each other.
Showtimes: Mondays at 12 PM Eastern, 11 AM Central, and Thursdays at 8 PM Eastern, 7 PM Central
Playlists
Episode 1, The Growing Landscape of American Jewish Music
Episode 2, Songs of Strength
Episode 3, The Light Inside
Episode 4, Emerging Artists from SLBC 2017
Episode 5, Fest
Episode 6, Songs of Hope
Episode 7, The Sound and Feel of Shabbat
Episode 8, The Edge of Change
Episode 9, Love Songs
Episode 10, The Days of Awe, and Beyond
Episode 11, Crowdfunded Favorites
Episode 12, Awesome New Jewish Music
Episode 13, New Music from the 2017 URJ Biennial
Episode 14, Songs for the Open Road
Episode 15, Faith, Belief, and Trust
Episode 16, Passover and Beyond
Episode 17, Sunshine, Smiles, and Good Times
Episode 18: Summer Mix, Volume 2
Episode 19: High Holiday Days
Episode 20: Awesome Emerging Artists
Episode 21: New Tunes! Whoo!
Episode 22: New Music for Cold Winter Days
Episode 23: Good Times and Great Tunes
Episode 24: Tons of New Music, featuring Brianah Caplan
Episode 25: New Music, featuring Jamie Marx and Noah Diamondstein
Episode 26: Summer Mix, Volume 1
Episode 27: Summer Mix, Volume 2
Episode 28: Songs of Hope
Episode 29: Music for the High Holy Days
Episode 30: Renewal and Moving Forward
Episode 31: Tons of New Jewish Music!
Episode 32: Light
Episode 33: New Year, New Music, New Artists
Episode 34 featuring Julie Geller
Episode 35: Good Times!
Episode 36: Joe's All Day Breakfast
Episode 37: Songs of Joy and Praise
Episode 38: New Tunes for Fall
Check out the Showtimes page for details and showtimes for all of JRR's celebrity-hosted shows!