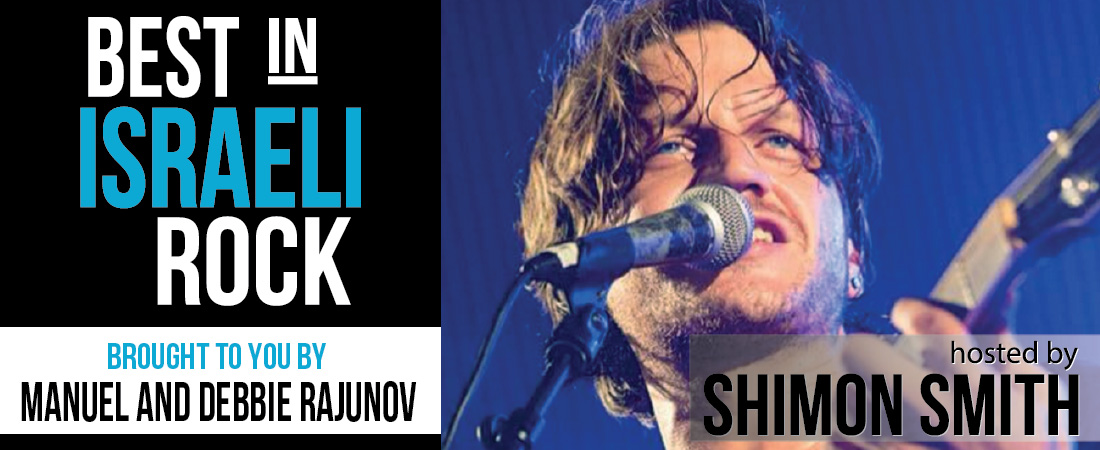 The Best in Israeli Rock features outstanding music from Israel's top artists., with host Shimon Smith. Brought to you by Manuel and Debbie Rajunov.
About the Host
Shimon Smith is from Tel Aviv and brings with him a combination of many different worlds – the new and old, Rock and Blues, Israeli and American, Jewish and secular. His unique style of music brings a message of unity, community, and musical connection to Judaism and Israel.
Playlists
Episode 42: Remembering Yitzhak Klepter
Episode 41: End of Year Special
Episode 40: Songs for Winter
Episode 39: Summer 2022 Hits
Episode 38: June 2022 Hits
Guy Mazig "Yareah Dvash"
Doris Nimni "Ganeden"
Avihai Hollender "Yomuledet"
Ester Rada "Tamid Lakum"
Yigal Bashan "Makat Shemesh (1978)"
Miri Mesika and Mika Moshe "Yesh Lach Otach"
Rita and ELK "Boom Boom Boom"
Episode 37: Spring 2022 Hits
Episode 36: New Year 5782
Episode 35: August 2021 Hits
Episode 34: Zman
Episode 33: Songs for Spring
Episode 32: Spotlight on Israeli Women Artists
Episode 31: Top Israeli Hits for November 2020
Episode 30: Top Hits for September 2020
Episode 29: New Releases Spring 2020
Episode 28: Yom Ha'atzmaut 2020
Episode 27: At Home with Shimon: Best Alone Songs to Make Us Feel Together
Episode 26: The Top 10 Songs of the Last Decade
Episode 25: Music for the New Year
Episode 24: Songs for the Soul
Episode 23: Best of Kayitz 2019
Episode 22: Remembrance to Celebration
Episode 21
Episode 20: Songs That Made Aliya
Episode 19, 8 Quintessentially Israeli Songs
Episode 18, Israel's Youtube Favorites
Episode 17, Eurovision Top Songs
Episode 16, The 2018 Shlichims' Favorite Israeli Songs of All Time
Episode 15, Celebrating Israel's 70th Birthday
Episode 14, New Music for February 2018
Episode 13, New Music for January 2018
Episode 12, Israeli Chart Toppers for November 2017
Episode 11, Olim Month and Rebecca Flanders
Episode 10, 2017 Summer Hits
Episode 9, Israeli Chart Toppers for Aug 2017
Episode 8, Israeli Chart Toppers for July 2017
Episode 7, Israeli Chart Toppers for June 2017
Episode 6, Shaliach Special, Part 2
Episode 5, Shaliach Special, Part 1
Episode 4, Israeli Chart Toppers
Episode 3, Indie Favorites
Episode 2, 2016 Israeli Chart Toppers
Episode 1, Shimon's All-Time Favorites!
Check out the Showtimes page for details and showtimes for all of JRR's celebrity-hosted shows!