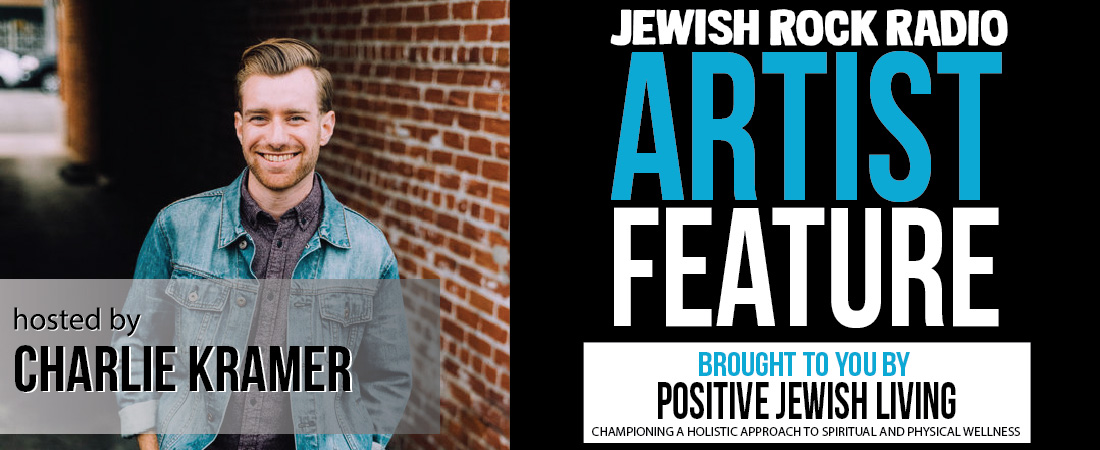 Host Charlie Kramer goes in depth with some of Jewish music's most exciting musicians to talk about their experiences and creative processes. Each episode features a different artist and their music. JRR Artist feature is also available as a podcast on Google Play, Apple Music, and Stitcher.
About the Host
CHARLIE KRAMER Based in Los Angeles, musician and songleader Charlie Kramer weaves performances rooted in deep connection, expertly combining song and spirit for an unparalleled communal experience. Charlie's music, indie folk-rock rooted in celebrating Jewish tradition, stems from a lifelong spiritual journey — one that he has made his mission to share with listeners through magnetic, intimate, soul-driven songleading.
Playlists
Episode 24: Jay Rapaport
Episode 23: Nick May
Episode 22: Jackson Mercer
Episode 20: Mikey Pauker
Episode 19: Naomi Less
Episode 18: Joanie Leeds
Joanie Leeds "RGB"
Joanie Leeds "Mayim"
Joanie and Matt "Havdalah Suite"
Episode 17 Sheldon Low
Episode 16 Eliana Light
Episode 15 Noah Diamondstein
Episode 14: Noah Aronson
Episode 13: Cantor Natalie Young
Episode 12: Abbie Strauss
Episode 11: Joe Buchanan
Episode 10: Chava Mirel
Episode 9: Ellen Allard
Episode 8: Rabbi Noam Katz
Episode 7: Josh Goldberg
Josh Goldberg "Haskiveinu"
Josh Goldberg "V'ahavtah"
Josh Goldberg "Yihiyu L'Ratzon"
Episode 6: Jacob Spike Kraus
Jacob Spike Kraus "Pitchu Li"
Jacob Spike Kraus "Hareini"
Jacob Spike Kraus "Hide and Seek"
Episode 5: Sammy Rosenbaum
Sammy Rosenbaum "Kol Ha'olam Kulo"
Sammy Rosenbaum "Or Zarua"
Sammy Rosenbaum "Divine Mama"
Episode 4: Josh Warshawsky
Josh Warshawsky "Hame'irah"
Josh Warshawsky "Va'ani Asher"
Josh Warshawsky "Ki Tzarich"
Episode 3: Blesd
Blesd "Oseh Shalom"
Blesd "Gratitude"
Blesd "Healing"
Episode 2, Lucy Greenbaum
Lucy Greenbaum "Y'hiyu L'ratzon"
Lucy Greenbaum "Mi Chamocha"
Lucy Greenbaum "Adonai S'fatai"
Episode 1, Jason Mesches
Jason Mesches "Rabbi Jokes"
Jason Mesches "Faith"
Jason Mesches "You Are Big (But Also Small)"
Check out the Showtimes page for details and showtimes for all of JRR's celebrity-hosted shows!