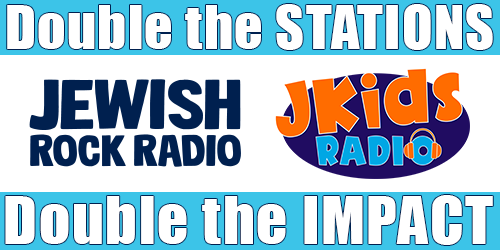 Jewish Rock Radio is a listener-supported program of Judaism Alive, a registered non-profit 501c3 organization. If you would like to send a check to support Jewish Rock Radio, please make checks payable to "Jewish Rock Radio" and mail to: Jewish Rock Radio, 14560 White Birch Valley Lane, Chesterfield, MO 63017. For online contributions, please fill out the information below. Your tax-deductible contribution is greatly appreciated.
Stock Donation
JRR can accept your donation of stock. If you'd like to make a gift by transferring stock, please contact us directly at [email protected] or call 314.991.0909 so we can provide your stock broker with the appropriate instructions for making your gift.
Matching Gift Programs
Many employers offer matching gift programs that can double or even triple a donation's value. Check with your company to see if they will match your gift to Jewish Rock Radio.
JRR Rockers (Individual)
Individual Jewish Rock Radio memberships are perfect for individual or family supporters! Click here for more information on Star Supporter membership levels and benefits.
| | |
| --- | --- |
| Up to $99 | Fan |
| $100 | Fanatic |
| $360 | JRR Opener |
| $500 | Headliner |
| $1,000 | JRR Rock Star |
| $2,500 | JRR Super Star |
| $5,000 | JRR Mega Star |
| $10,000 | JRR Chart Topper |
| $18,000 | JRR Icon |
| $25,000 | JRR Legend |
| $50,000 | JRR Gold Record |
| $100,000 and over | JRR Platinum Record |