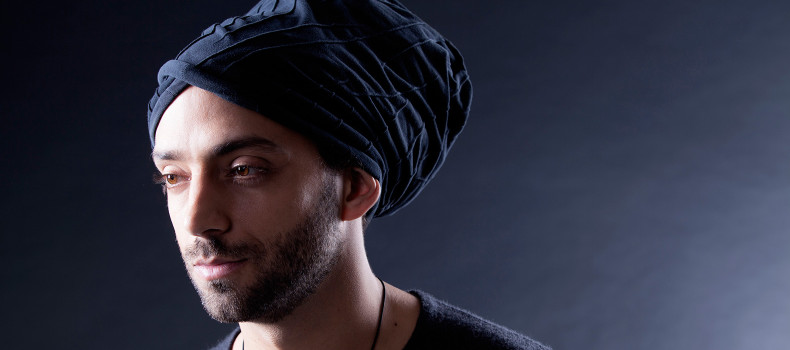 Celebrity Interview | Idan Raichel
The Idan Raichel Project burst onto Israel's music scene in 2002, changing the face of Israeli popular music and offering a message of love and tolerance that resonated strongly in a region of the world where headlines are too often dominated by conflict. With an enchanting blend of African, Latin American, Caribbean and Middle Eastern sounds coupled with sophisticated production techniques and a spectacular live show, the Idan Raichel Project has become one of the most unexpected success stories in Israeli music history.
The architect of this unique recording project, is keyboardist, producer and composer Idan Raichel. Originally from Kfar Saba, Israel, a small city near his current home of Tel Aviv, Idan was born in 1977 to a family with Eastern European roots, and although music was an important part of his upbringing, his parents did not place much emphasis on performing music from his particular cultural background. "I think the fact that I didn't have strong family musical roots is what made me be very open to music from all over the world," says Idan.
He started playing the accordion at the age of nine, and even at this young age was attracted to the exotic sounds of Gypsy music and tango. As a teenager, Idan began playing keyboards, and studied jazz in high school, honing his skills at improvisation and working with other musicians. In Israel, military service is mandatory for all young men and women, and at 18 Idan was conscripted into the Israeli army. Rather then heading to the front lines in this volatile region, Idan joined the Army rock band and toured military bases performing covers of Israeli and European pop hits. As the musical director of the group, he became adept at arrangements and producing live shows, making his Army experience productive and positive.
After completing his service, Idan started working as a counselor at a boarding school for immigrants and troubled youth. Notably, the school was filled with young people from Ethiopia who were part of Israel's growing community of Ethiopian Jews. Idan developed friendships with members of the Ethiopian community and began to explore Ethiopian music and culture. He started going to Ethiopian bars and clubs and soon was invited to Ethiopian synagogues, weddings and ceremonies.
Meanwhile, Idan had become a successful backup musician and recording session player for some of Israel's most popular musicians. He decided it was time to pursue a project that reflected his musical ideals, and began working on a demo recording in a small studio he set up in the basement of his parent's home. Idan invited over 70 of his friends and colleagues from Israel's diverse music scene to participate in the recordings. He never expected his musical experiments to turn him into Israel's biggest musical phenomenon in recent memory.
While most of the Israeli labels considered his work too "ethnic" and too outside of the norms of the formulaic Israeli pop scene, one A&R man, Gadi Gidor at Helicon Records, instantly heard the potential in Idan's work and quickly signed him on to the roster. The subsequent album was an immediate hit. The haunting Ethiopian chorus of the first single, "Bo'ee" (Come With Me), sounded completely unlike anything most Israelis had heard before, yet, coupled with Idan's richly poetic lyrics of love and devotion and sophisticated production techniques, the single was a huge success. The album went on to sell over 150,000 copies (triple platinum) and firmly establish Idan as a new type of Israeli pop star.
Interest in the recording began to grow while demand for live shows increased, including an offer from the prestigious Opera House of Tel Aviv. Given the number of musicians who participated in the recordings, it would have been impossible to have them all appear on stage. Idan chose seven members in addition to himself who were both versatile and strong individual artists in their own right. "There would be no front man," Idan said of the concept, "I would sit at the side and watch things and see what occurs. Every song would have a different singer, we would sit in a half circle and each musician would have a chance to demonstrate what they have to offer." The live show became symbolic of the album, as it brought together a group of people of different backgrounds but each is equal to the other.
This sentiment is reflected in the decision to name the collective The Idan Raichel Project. Says Raichel, "If I had called the album just 'Idan Raichel,' people would have thought that Raichel is the main voice on all the songs. I wrote the songs and I arranged and produced them, but I perform them together with other vocalists and musicians. On the other hand, we are not a group. It's something in between."
In January 2006, The Idan Raichel Project traveled to Ethiopia, the land that had inspired so much of its music. The trip marked the first time two of the Project's lead vocalists were able to return to the land of their birth and also the first time an Israeli artist had performed in Ethiopia. The Idan Raichel Project opened the Fifth Ethiopian Music Festival in Addis Ababa, sharing the stage with top Ethiopian performers, including the legendary Mahmoud Ahmed, and were happy to learn that their songs "Bo'ee" and "Mi'Ma'amakim" had earned a fair share of local radio airplay. The story of the Project's emotional trip to Israel became the basis of the documentary film Black Over White.
In the fall of 2006, the record label Cumbancha released the music of The Idan Raichel Project worldwide, bringing even more renown to this inspirational collective. Billboard Magazine called their international release "One of the most fascinating titles to emerge in world music this year…a multi-ethnic tour de force." The New York Times selected the album as one of the top world music releases of the year, and media from Peru to Portugal was unanimous in their praise. The album also received a nomination as one of the best world music albums of the year by the BBC Radio 3 Award for World Music.
Known around the world, especially in circles of Jewish, Ethiopian and Israeli communities, the Idan Raichel Project regularly sells out concerts in large performance venues. Since the international release, The Idan Raichel Project has headlined at New York's prestigious Central Park SummerStage, the Kodak Theater in Los Angeles, the Sydney Opera House and performed across Europe as well as in Mexico City, Sydney, Hong Kong, New Delhi, Singapore, and Mumbai. Future touring plans include South Africa and South America. Wherever they perform, The Project unifies the audience in a celebration of that which is unique about the cultures of the world, as well as that in which we are all alike.
In November 2008, The Idan Raichel Project released the album Within My Walls (Bein Kirot Beiti) in Israel to tremendous acclaim. The album is to be released worldwide outside of Israel by Cumbancha in early 2009. Much of Within My Walls was recorded over the past few years while Idan was on tour, during recording sessions in hotel rooms, backstage dressing areas, private homes and other impromptu settings. His poetic lyrics reflect these travels and contemplations; sung in Hebrew, Moroccan Arabic, Spanish, Cape Verdean Creole and Swahili, the songs address the struggle for personal fulfillment and the true meaning of love in a conflicted and complex world.
For Within My Walls, Idan recorded and co-wrote songs with Colombian singer Marta Gómez, Cape Verdean luminary Mayra Andrade and the silken-voiced Somi of Rwandan and Ugandan heritage. Inspired by the lush, moody strings of Nick Drake, Idan assembled a 24-piece orchestra and worked with Israeli arranger Assaf Dar to transpose his engaging melodies into an orchestral format. Idan also invited some of his favorite musicians, such as Middle Eastern percussionist Zohar Fresco, traditional flute and woodwinds specialist Eyal Sela, Mark Eliyahu on kamancheh (a traditional Persion fiddle), and legendary bassist Alon Nadel to lend their talents to the recording. The result is a deeply moving recording, overflowing with rich melodies, engaging poetry, stunning vocal performances and intricate arrangements.
With the release of Within My Walls, the Idan Raichel Project prepares to embark on their next great adventure by bringing their music to en even wider audience across the globe. With major tour dates planned for 2009 in North America, Europe, Latin America and other regions, the Idan Raichel Project will be breaking down walls for years to come.