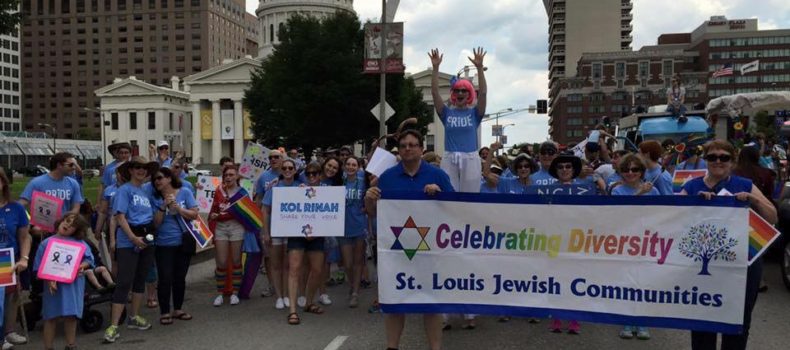 Q Jews of St. Louis
Just over 5 years ago, I resurfaced the peer-led organization Q Jews in St. Louis with Joe Auteberry and Nate Rosenblum. We were individually seeking a queer Jewish community, a social outlet that congregated like-minded young adults identifying as both LGBTQ and Jewish. It was important to us to carve out space within the queer St. Louis community and participate as an organization from within that sphere. We began meeting monthly in local LGBTQ bars and hosting programs at venues in queer-owned businesses and neighborhoods. We strove to offer programming unique to other young adult and Jewish organizations, with an innovative approach to celebrating Jewish values and holidays, and inserting LGBTQ values into the larger Jewish community. As often as possible we wanted to invite the Jewish community into queer spaces.
Over the past couple of years we have expanded our mission from predominately social to educating, evolving, challenging, and broadening the idea of acceptance within the larger St. Louis Jewish community. We have big plans to grow over the coming years to establish ourselves more formally and become exponentially impactful within our two main communities.
Last year one of our co-founders was awarded a grant to create a unique Shabbat experience inside an unexpected venue. Our goal was to create an accessible environment to celebrate Shabbat, leveraging the ideas of creating queer safe-space, and joyfully celebrating. We hosted Shabbat Lounge in a local classy cocktail lounge and created a living room environment to musically daven (pray) and wind down from the week. Jewish music played an essential role in establishing the space for participation and foster spirituality. A Shabbat service was constructed using new melodies paired with traditional melodies and taking time to teach some of them. Our songleaders are veterans of SLBC and bring the energy established during this conference into their services.
I helped establish Q Jews at a transitional time in my life. I had just completed graduate school and wanted to find ways to participate in the larger St. Louis community. As I began participating in established young adult organizations, it started to become obvious that there was little created with the added effort of not just being inclusive, but having the space for people identifying as LGBTQIA to participate. In the world around me, it was a time when the LGBTQ community was struggling to make space for trans*, genderqueer, gender non-conforming, and non-binary folks. A time when the established lesbian bars in St. Louis were closing and the communities that participated were looking for alternative spaces to congregate. A time when gay marriage was being heavily debated by our country's congress, and when the Conservative Jewish movement was writing brachot (blessings) and ceremonies for Jewish same-sex marriages, yet summer camps didn't quite know what to do with trans* identified campers. It was the first time I recognized that I desired a space I couldn't find in the established Jewish community, where I wouldn't have to struggle with feeling marginalized nor fault them for not being the space I was looking for. One solution was to create an organization that would stand out by carving a space among the other young adult programs for this specific community and bring a collaborative voice to the table. For me personally, this was the start of my passion for advocating for my community. And as such, it started me on an energizing path as an entrepreneurial and grassroots organizer I hadn't previously considered engaging with.
As Q Jews started out, it gave me and my co-founders the ability to think inventively about what was missing from the programming landscape. Having few resources gave us the ability to be incredibly intentional in creating a handful of unique and multifaceted programs which also gives each of us the opportunity to collaborate.
Q Jews created a space for young adults that didn't previously exist inside the St. Louis Jewish community. And by creating this organization we called attention to not only this missing entity, but the cruciality of bringing the LGBTQIA voice/perspective to the table when creating programming inside the organizations that already exist. Our members have individually created conferences and workshops for the community to identify the work that still needs doing. We strive to partner with other young adult organizations on many events, and participate as a community leader in celebrating the LGBTQIA community, especially in organizing the Jewish community during PrideFest.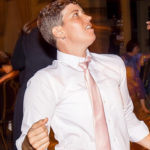 Shira Berkowitz grew up in St. Louis, and has been enthusiastically living here since joining Washington University for grad school where she earned her MFA. She has worked for local arts institutions in many capacities, and is an actively exhibiting and social engagement artist locally and internationally. Currently she is the Director of Advocacy and Communication at CRC, and welcomes the creativity and challenge of using advocacy as the catalyst for integrating design thinking with community engagement and tikkun olam. In addition she teaches college courses in Humanities and Arts, is an entrepreneur, a current artist resident at RAC+CIC @ CET, a past fellow for the Federation's JFACE program for emerging entrepreneurs, a contract visual and technical designer, a B'nai Amoona USY advisor, a staffer for St. Louis Israel Bound, and spearheads Q Jews. Shira is passionate about strengthening and bringing inventive programming to the Jewish landscape of St. Louis. As well as for improving community and neighborhood participation around legislative action and works assiduously to raise awareness of social, civic, and equality challenges.